• Molded by PA66 GF30, it is tough enough for long time use;
• Professional and high performance glue leakage stopping valve design.
• Excellent temperature control, i.e. high melting performance, with low Energy consumption;
• Fully heating performance within 7 to 10 mins, Kingvos
Hot Melt Glue Gun
can preheat and use in 3 mins.
• Fully glue leakage is 6-10 grams per minute, Kingvos hot melt glue gun can control glue leakage 0- 1.5 gram glue per minute
• Silicone sleeve for safe guidance of the glue stick.
• Automatic feeding device for comfortable usage.
• Large rest for safe standing
• Heat insulated nozzle.
• Kingvos hot melt glue gun is especially suitable for continuous heavy duty work.
• 1 year Guarantee
40 W High Quality Hot Melt Glue Gun Specification:
| | | | |
| --- | --- | --- | --- |
| Input: | 110-250V, AC, 40(12)W | Flow rate of glue: | 10-14 g/min |
| Diameter of glue stick: | 10.8~11.5 mm | Length of glue stick: | 70~300 mm |
| Application temperature: | 130~290℃ | Product weight: | 196 g |
| Nozzel diameter: | 1.0~2.0 mm | Pre-heating time: | 3-5 mins |
| Product Size: | 16x14.4 cm | Certification: | CE,GS,ROHS,KC,SAA,ISO |
| Inner box: | 10 pcs | Outer ctn: | 40 pcs |
| Inner box size: | 42x28x16 cm | Outer ctn size: | 57x43.5x34 cm |
| G.W.: | 11.9 kgs | N.W.: | 7.8 kgs |
40 W High Quality Hot Melt Glue Gun Show: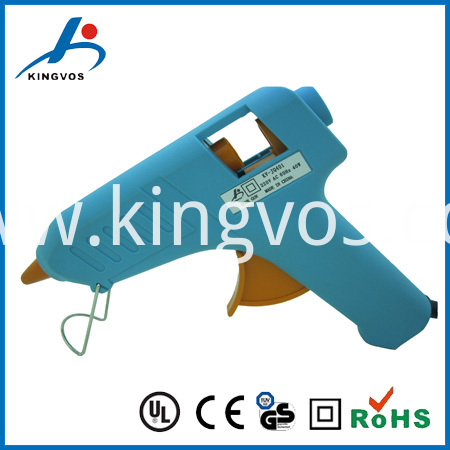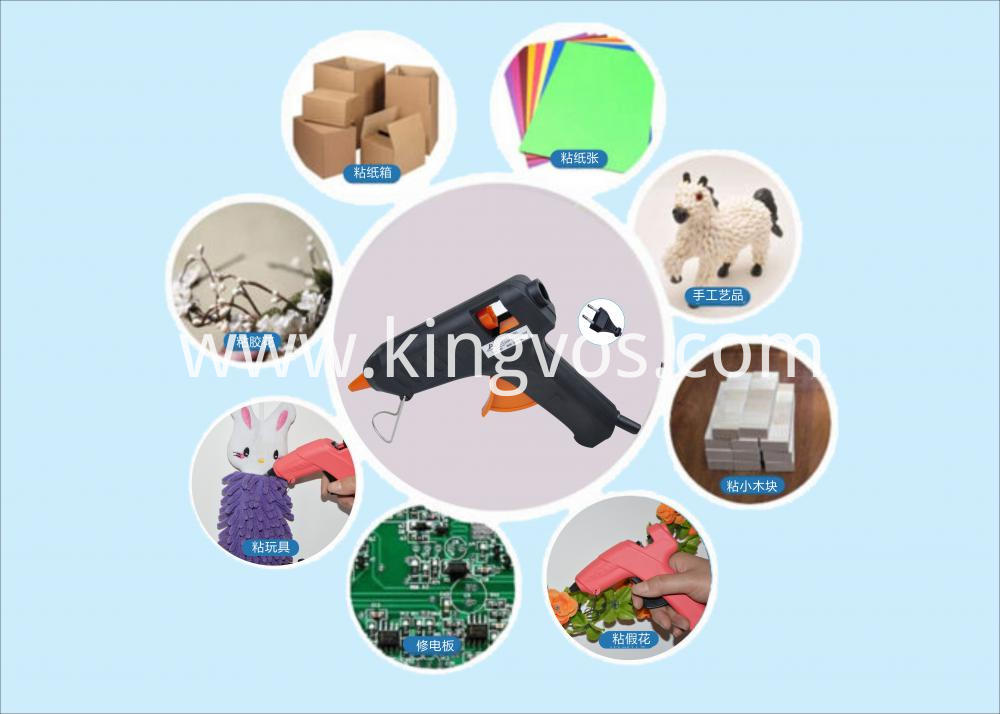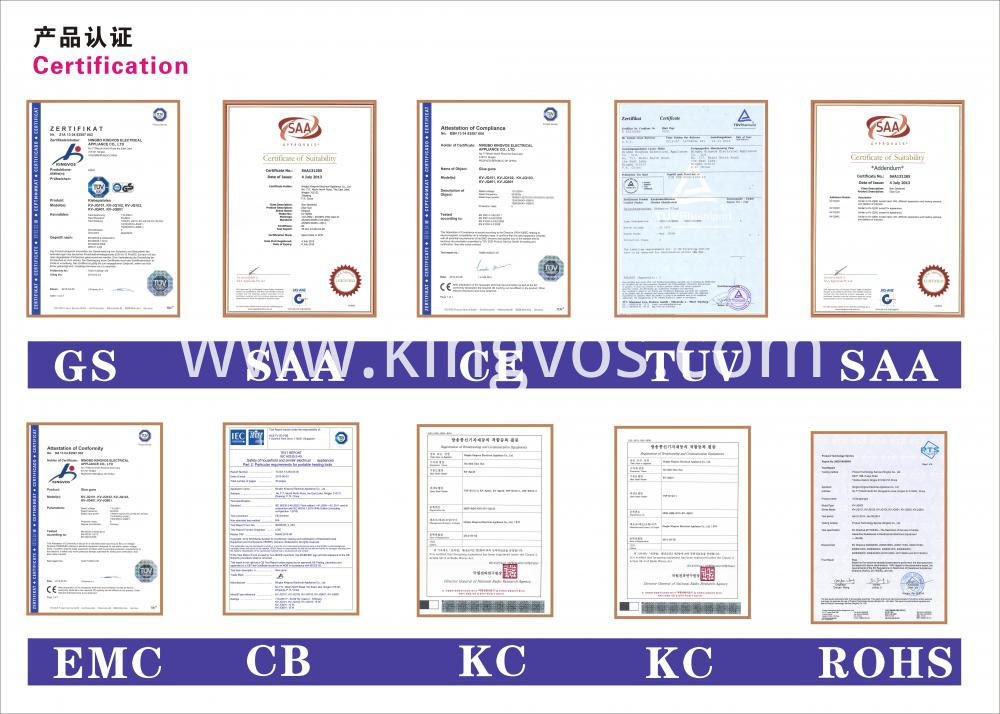 40 W High Quality Hot Melt Glue Gun ImportantCaution:
1. Before use the glue gun, checkif the plug cord into electricaloutlet properly;
2. When glue gunin first use, the heating element will have small smoke, it is normalsituation, but the smoke will disappeared after 10 minutes;
3. After power,not for a long time in standby mode(not longer for 20 minutes), when thesuspension of use, unplug first.
4. Avoid to usethe glue gun under very hot or very cold environments.
5. Better notwork under direct cold wind blowing, it will reduce efficiency and loss power
6. When incontinuous using, do not press the trigger with great pressure, and try tosqueeze out the un-melted glue, it would damage the glue gun
7. Notapplicable for bonding heavy objects or objects needed strong adhesive
8. The qualityof glue stick will directly influence the glue gun function and stickingobjects quality;
9. If thepower cord is damaged, do not replace it by yourself, must ask forprofessionals to replace it.
10. This tools must b e placed in its position whennot in use. And storage before the tools complete cooled.
11. Be careful when using any other electrical appliancewith flammable material.
12. Not applicable for a long time in the sameplace.
13. Do not use an explosive gas atmospheres.
14. Note that heat may be the line of sigh, combustiblematerials.
15. Do not leave equipment unattended when switchedon.
16. This appliance is not intended for use bypersons(including children) with reduced physical, sensory or mentalcapabilities, or lack of experience and knowledge, unless they have been givensupervision or instruction concerning use of the appliance by a personresponsible for their safety.
17. Children should be supervised to ensure thatthey do not play with the appliance.
40W High Quality Hot Melt Glue Gun Using methods
1. Glue gunusing voltage is 110-220V AC,50/60 Hz;
2. Tip gunforward on stand and place a piece of cardboard under the nozzle
3. Use 7-8 mm(mini trigger glue gun), 11-12(big trigger glue gun), insert glue sticksthrough tunnel at back of gun
4. After power,wait for 5-10 minutes to allow glue to soften
5. After gluesoftens, squeeze trigger to feed glue through glue barrel. Excessive force willdamage glue gun. Put down nozzle after work, disconnect the power plug.
Looking for ideal Glue Gun Art Manufacturer & supplier ? We have a wide selection at great prices to help you get creative. All the Glue Gun Australia are quality guaranteed. We are China Origin Factory of Glue Gun Stick. If you have any question, please feel free to contact us.
Product Categories : High Quality Hot Melt Glue Gun > Regular Glue Gun